I know that in recent times, I am kind of feeling more sensitive towards users experience in general, weather it is @ customer support for any item or @ email system … or this time @ one of my favorite download site (at least it used to be but not anymore).
For years I have used Download.com as my download site for windows application. Time to time I have used even reviews from CNET to lean about new/existing software .. but my recent experience has left a bad test in mouth to say, and I think I will not download from them ever

. Till now, when ever you want to download from this site all you had to do was to just search for that software, download it using link provided by the site and install the software.
But today when I tried this site to download "Revo Uninstaller" (an uninstaller application) instead of getting simple EXE, I got a custom installer designed by CBS Interactive (owner of CNET), it even has digital certificate from MSFT too so it "feels" more genuine. But I think it is wolf in disguise of sheep

(I am not sure about analogy but I guess you got the point).
So, this is how it begun … I downloaded an installer for "Revo Uninstaller" from www.Download.com and it gave me some 620Kb installer. As I begun installation using this installer, I have following screens …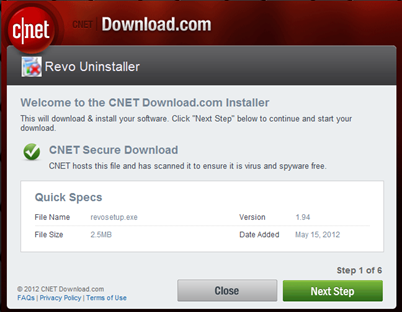 First step is to indicate that I will be downloading and installing Revo Uninstaller.