Gaurang
First thing I would like to write is a question .... Why the hack people write their bio in 3rd person ? I am Gaurang. I work as DBA / DEV for local company in CT. When I am not working, I am either reading other blogs n news OR "researching" / "experimenting" about things that I can do at home / at work OR tinkering with some new hardware/software OR playing games on my desktop. If you ever wanted to contact me, I can be reached by meATgaurangpatel.net
Homepage: http://gaurangpatel.net
Posts by Gaurang
If you have used new Visual Studio 2012 then you know that it is missing one of very useful "feature" for SQL Server guys. That was BI templates for different projects of SSRS, SSIS and SSAS. And it as one of the main reasons for me not moving completely to VS 2012. But few weeks back MSFT released sort of update for Visual Studio 2012… it is called SSDT BI tools (SQL Server Data Tools – Business Intelligence for Visual Studio 2012).
This is about 800 MB download and once installed it will add BI project templates in VS 2012.
If you have worked with MSI then you probably know that it uses an internal database to store all kind of information and you can actually directly modify this information by using a great tool OCRA. It is tiny utility released by MSFT.
But unfortunately it is not "that" simple to get OCRA because it is not available as separate download , instead it is part of Windows SDK. Which means that if you want OCRA you have to download whole Windows 7 SDK. And even after downloading whole 1.4 Gb ISO, this tools is not easily visible. Once you download ISO (for x64 bit download), either make DVD or mount it as virtual drive (my preferred option) then go to \Setup\WinSDKTools_amd64 and open up cab1.cab. Inside that you will see WinSDK_Orca_Msi_5E20C107_DAA3_4D49_AFAE_7FB2594F0CDC_amd64 , extract that file and add extension .msi to it. And that is your installation for OCRA !! I really don't know why such a great tool is hidden so deep by MSFT (and it is not the only great tool neglected by them). Once you install it you will see an additional entry "Edit with OCRA" in context menu whenever you right click on MSI.
As usual, I was searching something over internet and going through random crap to look for something (I don't remember now what was that) and I somehow found that there is really great utility available in good ol' Sysinternals Suite which literally allows user to remotely execute any application on another machine !! That utility is called PsExec.
Honestly in past sometimes I really had wished that if there is some kind of tool available which can run some program on remote machine so that I don't have to do something crazy. But I always assumed that it simply is not possible for whatever reasons and so it crossed my mind to even search for something.
Use of this tool is actually pretty simple. And like may other tools of Sysinternals suite this one too doesn't have any GUI to interact with. Users are required to feed bunch of parameters in order to make it work. And it is very possible that it will not work in first try because of missing parameter. To get list of all parameters you can simply run exe on command prompt and you will see something like this …
Few days back I was working on a script to automate project builds. And at one step I was required to checkout code from source control and build the application. Since everything was done using a single script there was no way I could prompt to user GUI because in this case it was just a plain PowerShell script. After bit to experimenting and Googling, I was able to find a solution that fit my need, but then I thought to use same script as a batch script (of course with some modifications) and I was surprised to see that many commands in PowerShell are declared and used differently then what we normally do in batch script. That was same case with SVN commands.
I use Tortoise SVN for both work and myself, so I am showing this using it. But if you look at help file it is clear that Tortoise SVN is more like a GUI tool not something that can be used via CLI, in fact it is even recommended by author himself to use Official SVN tools instead of Tortoise SVN. But lucky for us, Tortoise SVN already includes official SVN tools !! You can find them at "%ProgramFiles%\TortoiseSVN\bin\", it includes exes like SVN, SVNAdmin, SVNLook, SVNVersion etc. If they are not there then most likely they are excluded during installation (which is default installation choice). So just grab installation EXE from Tortoise SVN site and run installer again to install these tools.
From past some time I am trying to create windows domain in home computer with bunch of VMs using Windows Server 2008 R2 for "educational" purposes

… my ultimate goal was to setup clustered windows system and have SQL Server in that environment. I want to lean about how SQL Server behaves in clustered systems and what are ups 'n downs of any clustered system … like OS updates, SQL Server updates, SSIS – SSRS behavior in failover, system crashes etc … I mean you can always lean by reading but I think it gives better idea when you can actually test those theories on some kind of test system

So, by following few blogs, MSDN helps and forums … I was finally able to install and configure everything properly … I had working domain too … but when you try to setup windows cluster, it is recommended by MSFT to validate cluster before setting it up. Which basically runs bunch of tests like check all nodes, their hardware, their compatibility, storage system, network settings etc … and if any test fails then you have to fix that issue before setting up cluster. And if you are not too savvy about these items then it is really painful experience.
So when I tried to run this test .. it failed at one particular point where it validates system configuration. Unfortunately I don't have screenshot of this error so I can't show detailed message but it had something to do with system settings. I tried to look for this error and I was not able to find any definitive answer until I found an answer in stackoverflow which mentioned that it could be because of SIDs !
I know that in recent times, I am kind of feeling more sensitive towards users experience in general, weather it is @ customer support for any item or @ email system … or this time @ one of my favorite download site (at least it used to be but not anymore).
For years I have used Download.com as my download site for windows application. Time to time I have used even reviews from CNET to lean about new/existing software .. but my recent experience has left a bad test in mouth to say, and I think I will not download from them ever

. Till now, when ever you want to download from this site all you had to do was to just search for that software, download it using link provided by the site and install the software.
But today when I tried this site to download "Revo Uninstaller" (an uninstaller application) instead of getting simple EXE, I got a custom installer designed by CBS Interactive (owner of CNET), it even has digital certificate from MSFT too so it "feels" more genuine. But I think it is wolf in disguise of sheep

(I am not sure about analogy but I guess you got the point).
So, this is how it begun … I downloaded an installer for "Revo Uninstaller" from www.Download.com and it gave me some 620Kb installer. As I begun installation using this installer, I have following screens …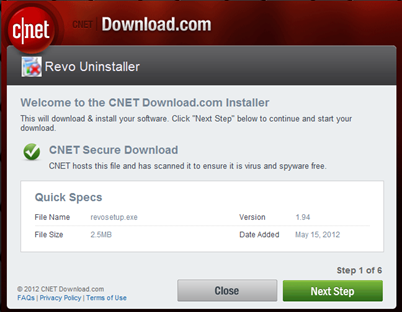 First step is to indicate that I will be downloading and installing Revo Uninstaller.
This great feature was introduced in SQL Server 2008 and since then it has been considered as one of "standard" method to administer database proactively. As the name suggests, it allows DBAs to create various policies to enforce certain rules to single database, to group of databases or to whole server… for example default database backup location has to be some particular drive or every new database has to be in full recovery mode or each SP that are created and that will be created has to have prefix "USP_" etc.
It is very common issue of collaborative database development that developers like to keep follow their own naming convention then industry standards or MSFT recommendations for database objects. And they usually choose proper names for any objects they create, based on function / purpose of that object. But sometimes they like to choose name which could effect how SQL Server Query Execution planner behaves and you might see performance impact. For example in case of Stored Procedures, use of prefix SP in front of the stored procedure name. Now, I am not an expert in performance tuning but I know basic thing that it causes Query Execution planner to look into system stored procedure list at first because SP keyword is reserved for system stored procedures.
So instead of routinely monitoring any change made by devs and modifying / rolling back their change for such a silly name, it is far more convenient to have SQL Server watch for any thing like that and if such event occurs simply fail the execution and let developer know about this mistake. And this is exactly what I am going to demo here

Policy Based Management (aka PBM) is made of 3 components. Facets, Conditions and Policies. And the order it works is, you use existing facet in condition and based on that condition you create a policy to be implemented on either single database or whole server.
1) Facets : They are kind of hard to explain by simple definition. Think of it as a class of .NET which exposes various properties. For example, database has different properties like Size, Name, Status, Owner, etc.… And you can use any of these properties to define condition. See this post for more detailed definition of Facets. By default there are number of pre-defined facets exist in SQL Server and there is no option to create user defined facet. A typical facet for Store Proc looks something like below,