Gaurang
First thing I would like to write is a question .... Why the hack people write their bio in 3rd person ? I am Gaurang. I work as DBA / DEV for local company in CT. When I am not working, I am either reading other blogs n news OR "researching" / "experimenting" about things that I can do at home / at work OR tinkering with some new hardware/software OR playing games on my desktop. If you ever wanted to contact me, I can be reached by meATgaurangpatel.net
Homepage: http://gaurangpatel.net
Posts by Gaurang
One of my favorite event for which I always had to travel just too far .. either at NY or at MA for past few years … but this year CT is going to have it's very own SQL Saturday. For anyone who have not heard about this great event then think of it as a code camp exclusively concentrated on SQL Server and it's components like SSRS, SSIS and SSAS. In past two years I have been to SQL Saturdays of Boston twice and both of them were just great. Only thing that I really hated was drive of about 4 hours all the way to Waltham but once you are there you will realize that it is well worth of it 😀 …
But this year, SQL Saturday team has finally decided to have SQL Saturday event in CT at Quinnipiac University on March 2nd… which happen to be very close to my home. As always they have 5 tracks … DBA, Dev, BI, New Version of SQL Server (this time it is 2012) and Personal dev. No doubt all three … DBA, Dev and BI has really great session and speakers … and I am really not sure where I will go .. because all sessions seems great to me 🙁
Just as a side note they have $10 fee for lunch … or think it as an entry fee … but if you have been to any similar event then you know that it is worth more then that 😀 …
All details about time and session and registration can be found on SQL Saturday website.
That's it for now … See you at the event …

This was the error that I was getting when i was trying to deploy our database project to one of our test system in a batch script. To me it was a bit surprise because I had done same process many times in past and it has worked just fine. But today I spent hefty amount of time to resolve this issue. Whole error that I was getting was something like below,
—— Deploy started: Project: Database, Configuration: Debug Any CPU ——

C:\Program Files\MSBuild\Microsoft\VisualStudio\v10.0\TeamData\Microsoft.Data.Schema.TSqlTasks.targets(120,5): Error Deploy01234: The target database schema provider could not be determined. Deployment cannot continue.

Done executing task "SqlDeployTask" — FAILED.

Done building target "DspDeploy" in project "TheDatabase.dbproj" — FAILED.

Done executing task "CallTarget" — FAILED.

Done building target "DBDeploy" in project "TheDatabase.dbproj" — FAILED.

Done building project "TheDatabase.dbproj" — FAILED.

Build FAILED.
Few days back I changed password of one of my email accounts in Gmail and I got this notification in email. Now funny thing is this email is in same account of which I had changed password !! I can understand the good intensions (!!) of great G but consider a scenario where this account got hacked by someone and that person has setup new password and G is sending notification of password changed to same account to notify original owner that password has been changed !! And how will this help me ?
Of course, Great G has other means to notify as well. You will get notification at your recovery account (if you have not ignored G's requests to setup one
or that hacker has not changed it before modifying password !!). G even can prevent access to account if connection request originates from totally different location then it's usual geographical location (which can be easily fooled by proxy or vpn or things like that).
It has been while since I posted something. Actually I was on very long vacation

for almost 2 months and during that time all I did was eating, traveling, sleeping and eating again … and now it is ended and I am back .. I think I have gained few pounds… so (just like every year) this new year I have taken resolution to get back in shape (that's a different story that right now I am in crisis to stay resolute
).
Ok, enough babbling … I am sure everyone is familiar with shortcuts created for an application when we install it. Usually these shortcuts are created inside Programs' menu (aka Start menu) and Desktop … sometimes you even have options to create in quick launch menu too. Actually it is very easy to achieve this in Windows Installation project and in this post I am going to show just that …
First step is to create new Visual Studio Installer project and give it any name. Since I am very bad with names, I simply gave it "TestMSI". Then I added one text file I had for another post and added it installation. If you don't know how to create an installation project or add a file into installation project then read this old 101 post. Once that file is added, say I want to create a shortcut of this file on user's desktop and start menu. To create a shortcut in Start menu, select "File System" in MSI project and select "User's Program Menu". When it is selected, right click in work area and select "Create New Shortcut".
In SQL Server 2005 MSFT introduced very new feature … Database Snapshots … which is basically a read-only view of database at the time when snapshot was taken. Just as a side note…even at the time this feature was introduced in SQL Server, other age old DBMSes like Oracle and DB2 were already offering similar feature in their systems. Database Snapshots can prove really useful if used wisely or can bite you back if used without any thoughts … hence … The Good, bad and ugly …
Another note before starting … unfortunately Database Snapshots are kind of toys for rich only

… which means you have to have Enterprise edition to use this feature. But since I have developer edition … I am more like a lottery winner
… because all Enterprise features are available in Developer edition … with that being said … let's prepare staging environment.
I have a test database with few sample tables that I have derived from AdventureWorks tables. I created this database into a temp HDD created using one of my favorite RamDisk software. Which gives me ability to blow up that drive without any issue at any time (which exactly what I will do at the end of this demo in the Ugly part
). But say if you don't have enough RAM you can use USB thumb drive as a place to restore database backup. I restore database with following command …
Ok, few weeks back I posted how to create a fixed width file using SSIS for test purposes. Then after that I posted TSQL way to import it into database, and now today I am going to show how to import it using SSIS package… I have used same database (which I used to generate file) and same file (generated using SSIS package) for this demo because … well because I can

.
First step is to fire up VS 2010 with SSDT and create new SSIS project. And then select data flow task and drag it to control flow tab. Open up data flow task and select "flat file source" as source of data and drag it to data flow task work area. This will open up connection wizard which you will use to configure flat file source.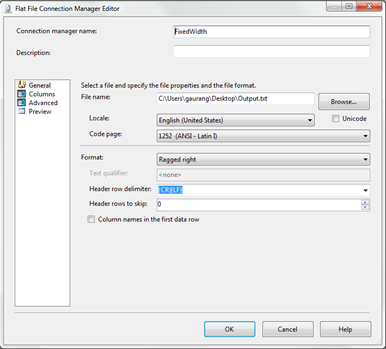 For those who don't know what flat files are … they are just a txt or csv files. They could also be fixed position files. All of them uses some kind of row and column delimiter to separate data within them
In First part of this How To I explained essential component required to manipulate MSI installation process and create funky installation process. In this part I will use that theory of 1st part and create an advance installation process which will do following steps as part of installation process …
1) Install a file at user selected location
2) Write a timestamp into that file
Under the hood this whole process actually includes more steps, this file is located into a temp folder from where this file will be copied to install directory and then I will write a timestamp to this file. And also I will remove that temp folder which was hosting this file originally.
Before anyone assumes that I am flippin' genius or something and I have invented this whole thing, I would like to let you folks note that part of this post is based on MSDN post @ how to create custom actions in Installation projects. Rest of items are my ideas but believe me its not THAT difficult to make 'em work
…