Archive for
December, 2009
Depending on storage method used by database, it can be classified in various models. Such as, Relational database, Network Database, Object Oriented Database etc. definition can be found over Wikipedia. The most commonly used Database Model today is Relational Database Model, in which all information stored as a relation. This model was originally formulated by E.F.Codd, also known as father of modern Relational Database. All DBMS, e.g. Oracle, SQL Server, IBM DB2, MySql follow this model.
As of today, Relational DBMS is the most widely used DBMS, and that's I will write about. Also will explain the main reason we use DMBS instead of file system (again …). Below figure shows how RDBMS constructed internally (and again, all RDBMS follows this model, they are just represented differently) which i found on Wikipedia.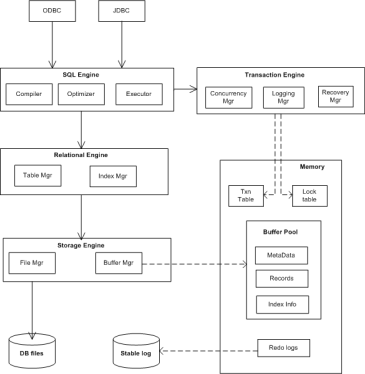 RDBMS model contains five basic engines. Namely, SQL Engine, Relational Engine, Storage Engine, Transaction Engine and User Interface.