Strange installation size of MSFT tools
I always prefer to use C drive only for OS and D drive for other installations. And I did the same thing when I installed Visual Studio on my machine. I installed it on D drive and when I  tried to install newly downloaded LightSwitch from DreamSpark, I found that even the install directory is D, it uses loads of space on C drive as well !!
I just don't understand the point of having thing on C. But I guess it is typical MSFT. Because I found same behavior when I installed SQL Server or Visual Studio in past. Only difference is this time I remembered to take screenshot of installation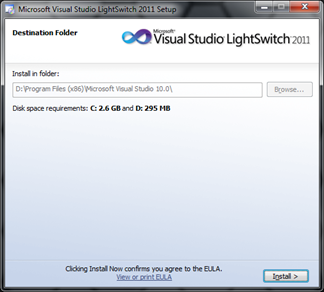 That's it for now.
It's Just A Thought …

No comments yet.
No trackbacks yet.
about 4 years ago - No comments
Finally I gave up and upgraded my Windows 7 Pro to Windows 10 Pro. I resisted upgrade to 8 and 8.1 mostly because when I tried them in my new laptop I was not impressed at all. Worse, I lost my faith in MSFT. It was mostly because user experience for me was just terrible.…