Gaurang
First thing I would like to write is a question .... Why the hack people write their bio in 3rd person ? I am Gaurang. I work as DBA / DEV for local company in CT. When I am not working, I am either reading other blogs n news OR "researching" / "experimenting" about things that I can do at home / at work OR tinkering with some new hardware/software OR playing games on my desktop. If you ever wanted to contact me, I can be reached by meATgaurangpatel.net
Homepage: https://gaurangpatel.net
Posts by Gaurang
I have more than few laptops laying around that are too old to run anything but Linux… But I don't want to part from them. Because I think they are still poweful enough to do things but also because there is no real good way to recycle them. And I always wished to find better use of them then using as level-2 hypervisor server. And to me that is just waste of precious resource as you run hypervisor on top of OS that is already using 1/2 of available system resources. And unfortunately, most of freely avaiable level-1 hypervisors like Microsoft Hyper-V or Vmware ESXi are not installable on consumer grade hardware (i.e. Laptops) because they have very specific requirements for hardware (specifically NICs are always causing issue, unless there is open source driver available for it). So my forever common setup was use VMBox in Linux…. which I hated by heart because it is very inconvinient.
Enter the Proxmox…. Untill very recently I never thought that world has to offer more than few big names as hypervisor. Actually I found it accidently at some random corner of internet. The best thing about it is, it is based on Debian and so you can pretty much install it on any machine where you can install Debian (meaning all of my laptops can run it !!). With that being said I will just dive in setup process.
The way it works is, you can download Proxmox from their website. It is open source so it's code can be reviewed and audited by anyone. Now I am not a licensing expert or lawyer so don't quote me but as far as I can understand it is free to use even in enterprise environment. And if you need help with software they do have decent subscription support.
Once you download ISO, you can burn it as CD (seriously who is even using them now a days?) or to USB. Once that is done plug it to your laptop and boot via USB or CD\DVD.
When it boots it will come up this installation screen.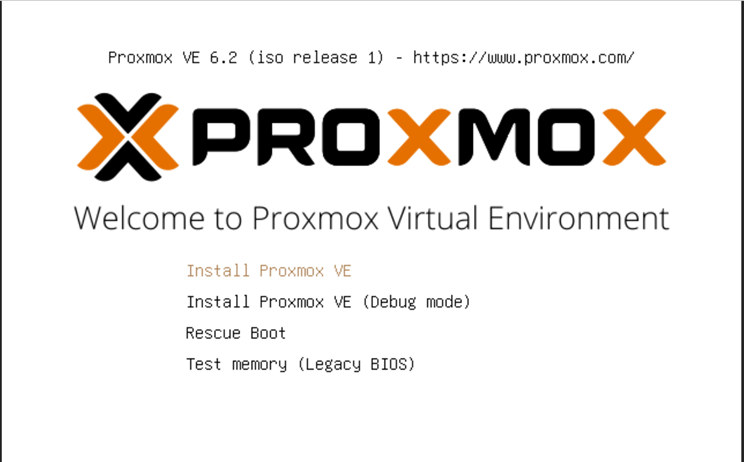 Do you happen to have a situation where you have spare Raspberry Pi laying around and get some project in mind… but don't have spare monitor/keyboard/mouse? Or you are simply lazy like me to get off desk to put things together
? I found out that it is really simple to actually do headless installation of Raspbian. And this is how you do that…
First you need to get current image of Raspbian. It can (and should) be downloaded from official site here. Next you need is a tool to flash that image into flash memory. My current favorite is Etcher. I find it's interface very minimalistic and clean… And really easy to use. As far as storage medium, it is recommended to use good class 10 micro sd card. I usually use one from Sandisk or Samsung. It is advisable to use card that can withstand good amount of read and write cycle. This unfortunately is very important because Pi itself doesn't have on board storage, meaning everything is stored on micro sd card. If it gets damaged or corrupted, you will lose your data. So quality of micro SD card is very important.
If you have been working with Linux for long enough time, you must have came across this question… "I have setup my Linux exactly the way I need it, now how do I replicate same setup in someone else's computer?" or even better, "It would be great if somehow I can make LIVE CD out of my current setup". This is more or less like what you would do using Sysprep but on steroids
for Linux. I ran into this situation recently at work where I have to make bootable ISO (read live CD) out of existing Linux machine.
After initial struggling with my web searching skills (or may be it was my refusal to use Google for search… I am using DuckDuckGo), I found that there are in fact more than few tools available that do just that! I decided to give try a tool that made sense to me (which can be totally different for anyone else) is called Pinguy Builder. This tool is only for *buntu family. It is simple to use tool with decent GUI and ability to use shell interface…. win win for me. Following is what I did to create copy of my Linux installation in Live CD form so I can distribute it for my purpose. Depending on your *buntu version you need to download required version. Download page has more details about what version is needed for what version of OS, so I am not repeating that here.
Install DEB package as you would normally install any DEB package. Once it is installed you can start program by looking up for "Pinguy Builder" shortcut (or via shell). For first run you should see screen like this…
So… after trying Windows 10, I ran into first annoying issue which seem to have no solution at this point.
Main reason I wanted to upgrade to Win 10 (not sure if I had choice since MSFT is literally forcing everyone to upgrade to Win 10) was to try Hyper-V. I am running at any given time @ 3 VMs together and my laptop has 8GB of ram so it has no issue running all of them together.
But today I was getting odd error when I tried to start VMs for something. Exact error was like below,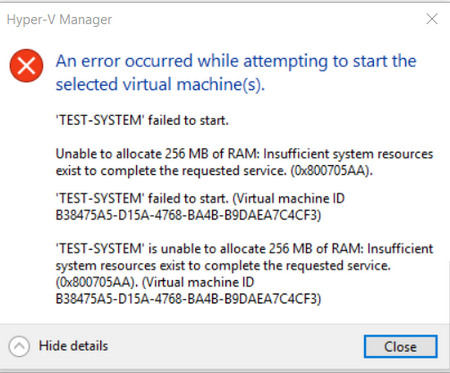 I like to spend time with Oracle DB just as much time I spend with SQL Server, but we exclusively use SQL Server at our work so I am not getting enough time with Oracle anymore. And another reason is it with Oracle there are way too many variable to consider when you are troubleshooting something. So when couple of days back when I boot up my VM of Oracle, I ran into this strange error and I was genuinely surprised to find how minute the cause could be.
So, this how the story goes …. after booting my VM, I started SQL PLUS utility (it is kind of SQLCMD equivalent of SQL Server, it is CLI to access Oracle DB to be exact). When I was asked to provide login credentials, when I provided 'em I was greeted with following error message,
ERROR:

ORA-12560:  TNS: protocol adapter error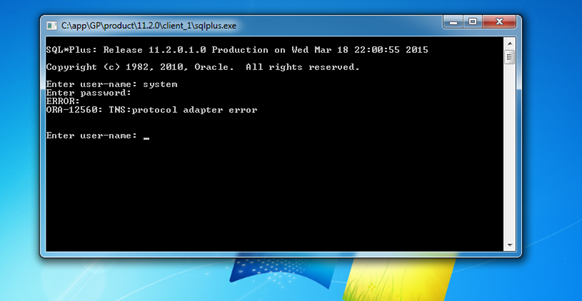 Visual Studio 2008 full installation had always included Business Intelligence Development Studio (BIDS) with it. But for whatever reasons MSFT decided to skip that part in VS 2010(may be because there was no major release SQL Server during that time) and it was missing for very long time till release of next major SQL Server release aka.. SQL Server 2012. Even at that point there was no BIDS or similar tool set available in VS 2010/12 till MSFT released SQL Server Data Tools BI Studio for VS 2012.
So after I got VS 2013 edition installed on my system I was trying to install SSDT BI for VS 2013 so I can play with it on my new VS. But to my surprise, when I started installation it failed on a step where it check for pre-requisites with error about having different architecture which is understandable since I am using x64 bit system. So I looked for 64bit installation for SSDT BI and found that there is no such installation !!
I rely on great windows utility called Snipping tool both at work and at home to take screenshots of different things to write and keep things in records. And in past I have tried other screenshot replacement tools like Green Shot and Snag It but they are too much for my simple needs to take screenshot. So today when this tool stopped working in my home system, it was my top priority to fix it
…
There were bunch of solutions explained over different forums including repairing office, killing another running snipping exe, reinstalling tablet pc component etc but none of them worked. One of the suggestion was to do system restore but that will not work for me either (because I have always felt lazy to keep by system backedup to the date
).