Archive for
August, 2012
Just as usual, this post is kind of "Bi-product" of my attempt to create a demo for another post in which I need to use fixed position file. At first I tried to create a fixed position file using BCP. BCP has query out option to export query results into a file, but I was unable to produce the fileformat which uses fixed position. I actually even tried to use format file to generate required format but I ran into many issues so finally I thought that it is more important to get results than means to achieve it (at least it is true in this case
) and I fired up Visual Studio to use SSDT.
Actually it is very easy to generate a fixed position file using SSIS. All you have to create is a simple Data Flow task and then add a SQL Server as source and a flat file as destination into that task. Only thing to be sure is configuring Flat File destination settings.
Lets say you download a file from internet and you want to make sure that this file's source is legitimate (say you just downloaded new ISO of Ubuntu from their site). Or in another case you want to make sure that there is no corruption in file that you just downloaded from internet (now you may argue that why bother ? Can't you just download that file again ? … but sometimes it's not that simple … and that's how it works in office bureaucracy

) … in both of these cases usually you can ask for hash key generated using either MD5 or SHA-1 algorithms from person who sent you that file and compare those keys with key generated by you and if that matches then everything is good … and if it doesn't then something funny is going on. In fact, today it is very common practice by many companies to provide MD5 and/or SHA-1 hash keys for their software to make sure that they are not tempered with.
And File Checksum Integrity Verifier aka FCIV is a mouthful name of a tiny utility by MSFT. Sole purpose of this utility is to create or compare file integrity using MD5 or SHA-1 hashing algorithms. First step for that is of course to get FCIV from MSFT Download Center. Only issue (!!) is there is no GUI for this utility, so you will need to use terminal to run this utility.
Following is copy from help of this tool,
//
// File Checksum Integrity Verifier version 2.05.
//

Usage:  fciv.exe [Commands] <Options>

Commands: ( Default -add )

        -add    <file | dir> : Compute hash and send to output (default screen).

                dir options:
                -r       : recursive.
                -type    : ex: -type *.exe.
                -exc file: list of directories that should not be computed.
                -wp      : Without full path name. ( Default store full path)
                -bp      : specify base path to remove from full path name

        -list            : List entries in the database.
        -v               : Verify hashes.
                         : Option: -bp basepath.

        -? -h -help      : Extended Help.

Options:
        -md5 | -sha1 | -both    : Specify hashtype, default md5.
        -xml db                 : Specify database format and name.

To display the MD5 hash of a file, type fciv.exe filename
I recently got curious about use of SSL in SSRS. I mean I know that it has an option to use secure HTTP but I have never used it. Because in all of the places where I have worked were either not interested in using SSL or just felt that it is too expensive to use and maintain 'em.
So this weekend I decided to take matters in my hand and decided to start my journey to make SSRS use SSL
. And first step for me was to make IIS use SSL. I really don't have expertise to explain how SSL works but it is basically process of exchanging information between server and client via certificates and then verifying that information to make sure that both server and client are really what they say that they are.
And as you know that these server certificates has to be signed by some kind of CA (certificate authorities) and they charge hefty amount of $$$ for these kind of certificates. But if you want to use your secure HTTP just for very limited userbase or want to test some SSL based features then IIS has a feature called "self-signed certificates" which basically allows users to create their own certificates to use !!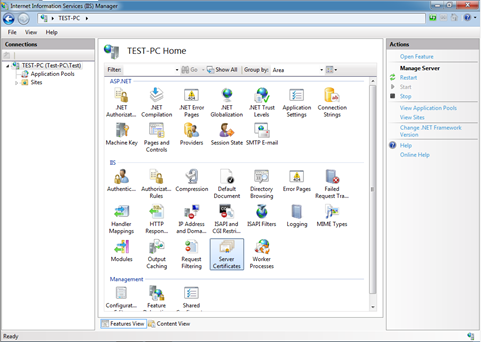 This whole process of generating self-signed certificate is very easy process. For that just open up IIS Manager and select "Server Certificates". Open up that option and on right hand side there is a sidebar with bunch of different options. One of the option is "Create Self-Signed Certificate", click on that option and it will open up a small window. This window will prompt to specify "user friendly" name for that certificate. And that it !! Once user friendly name is entered, it creates certificate for you … just like that …