IIS
I recently got curious about use of SSL in SSRS. I mean I know that it has an option to use secure HTTP but I have never used it. Because in all of the places where I have worked were either not interested in using SSL or just felt that it is too expensive to use and maintain 'em.
So this weekend I decided to take matters in my hand and decided to start my journey to make SSRS use SSL
. And first step for me was to make IIS use SSL. I really don't have expertise to explain how SSL works but it is basically process of exchanging information between server and client via certificates and then verifying that information to make sure that both server and client are really what they say that they are.
And as you know that these server certificates has to be signed by some kind of CA (certificate authorities) and they charge hefty amount of $$$ for these kind of certificates. But if you want to use your secure HTTP just for very limited userbase or want to test some SSL based features then IIS has a feature called "self-signed certificates" which basically allows users to create their own certificates to use !!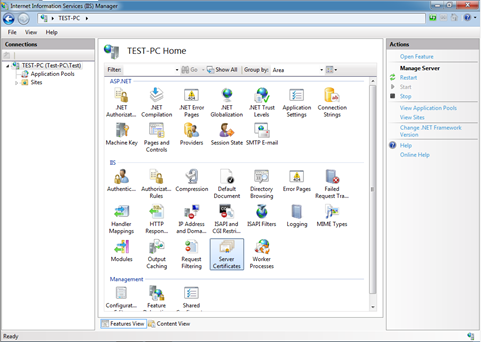 This whole process of generating self-signed certificate is very easy process. For that just open up IIS Manager and select "Server Certificates". Open up that option and on right hand side there is a sidebar with bunch of different options. One of the option is "Create Self-Signed Certificate", click on that option and it will open up a small window. This window will prompt to specify "user friendly" name for that certificate. And that it !! Once user friendly name is entered, it creates certificate for you … just like that …