Posts tagged
Firefox
This is really really weird issue for firefox user. If you have been using firefox, one feature that you might be missing badly in new firefox is "save tabs" option while closing firefox if you have opened multiple tabs. Sometimes you've added some add-in which requires you to restart firefox but you also don't want to reopen existing tabs at that time this feature comes really handy. But for some strange reasons Mozilla guys thought that this feature is not so important so they have disabled this feature by default !!! And it is really difficult for person like me who is using Windows which every now and then installs new update and asks for restart of whole machine.

Archimedes would have said same thing today if he was sitting next to me

… Finally I got Firefox 4 beta working !!!
As I had posted few days earlier, I had been trying to make Firefox 4 beta working and every time I tried to install it, I always ended up with some really weird looking screen then regular one. I tried many different approaches, like clearing temp … cleaning registry … removing old folder … but none worked.  But today, I was in mood to fight till end. So, I uninstalled all plugins from my old Firefox 3.6 and then tried to install Firefox 4 beta … and with a little surprise the final result was something I was not expecting at all !!! I had all normal Firefox 4 screen as it was shown in screenshots at Mozilla

…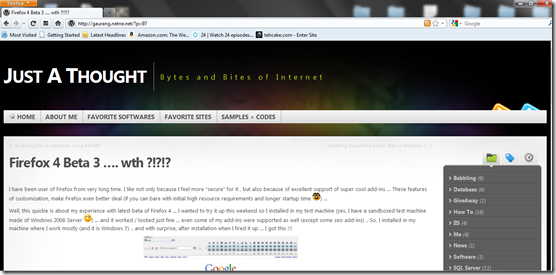 I have been user of Firefox from very long time. I like not only because I feel more "secure" for it , but also because of excellent support of super cool add-ins … These features of customization, make Firefox even better deal (if you can bare with initial high resource requirements and longer startup time
) …
Well, this quickie is about my experience with latest beta of Firefox 4 … I wanted to try it up this weekend so I installed in my test machine (yes, I have a sandboxed test machine made of Windows 2008 Server

) … and it worked / looked just fine … even some of my add-ins were supported as well (except some seo add-ins) .. So, I installed in my machine where I work mostly (and it is Windows 7) .. and with surprise, after installation when I fired it up … I got this !!!